Last fall I started shopping for a treadmill so I could continue training over the winter for the races I have scheduled this year (Ironman 70.3 St. George in May, Ironman Coeur d'Alene in June, and Echo Triathlon in July), and after much consideration, I settled on the $3,750 Technogym MyRun. I don't usually write reviews of things I buy, but while researching treadmills, I didn't see many reviews of this particular model, so I thought it'd be worthwhile to share my experience with it, if nothing else as a cautionary tale for others who might be considering buying one.
TL;DR: It's an awesome treadmill backed by an excellent iPad app, but unfortunately marred by Technogym's abysmal customer support, which makes it hard to recommend.
Why the MyRun?
There were a few things I was looking for in a home treadmill:
I don't have a ton of space left for workout equipment in my home office/fitness room, so I needed something compact. I didn't want something with the Starship Enterprise viewscreen in front of it, or an overbearing console full of crap I don't need, such as puny fans and tinny speakers. I also ruled out non-motorized treadmills like the Assault Runner, which are large and heavy. The ability to fold it was a nice-to-have, but not a requirement, since it doesn't seem to save that much space in most cases (I think it's mostly useful for vacuuming under the treadmill.)
I needed something with a durable motor. Based on my research, for the type of training I do, with lots of intervals and long endurance runs, I needed a treadmill with at least a 3 hp motor.
I wanted something that didn't require a lot of maintenance. A lot of the cheaper treadmills require lubricating the belt at regular intervals, and with the amount of running I do, I knew I'd get frustrated with that very rapidly.
I get bored very quickly on a treadmill, so support for Bluetooth FTMS for Zwift integration would be welcome. This was a nice-to-have, not a hard requirement, since there are other ways to use Zwift with a treadmill.
I did not want to get locked into any subscription services, which ruled out things like NordicTrack and Peloton treadmills.
I didn't have a specific budget in mind. I wasn't planning to spend $14,000 on a Woodway (as much as I'd love to have one), but in general I'm happy to pay more for a good product that does what I need and lasts a long time. I'm a firm believer in "buy once, cry once."
Warranty and support were also considerations, but those are harder to gauge. Most treadmill manufacturers offer similar warranties, but how they'd respond when things break is hard to figure out ahead of time (as I learned the hard way).
Based on that criteria, I narrowed my search down to a few choices:
After much hemming and hawing, I discarded the ones that require frequent belt maintenance and have oversized consoles, and narrowed it down to the Precor and the Technogym. Despite costing almost twice as much, I settled on the Technogym because it's more compact, it's easier to move (it has wheels, the Precor does not), and has the smart features I thought I would enjoy. The uncertainty around Precor's warranty and support after Peloton's acquisition and subsequent financial issues gave me pause as well; I thought the Technogym would be a safer buy in that regard, especially considering the price—I was wrong, but I'll come back to this later on.
Buying & delivery experience
I ordered the treadmill online from Technogym's website in early November. A customer support representative emailed me a couple days later to confirm my address, get some details about the location (such as the presence of stairs and such), and let me know that there'd be a lead time of 3-4 weeks for delivery.
The "white glove" delivery took a little longer than that, which didn't surprise me since it was the holiday season, and happened at the end of December. Scheduling the delivery was easily done online, and two men drove a truck from Salt Lake City to deliver the treadmill, arriving exactly when they said they would. They unpacked the treadmill outside my apartment, carried it inside, and set it up. The entire process took about 30 minutes in total, and setting up the treadmill itself took maybe 10 minutes, tops. They took all the packing materials with them, wore masks and shoe covers the entire time, and left my place immaculate, which I appreciated.
Assembling it was a matter of unfolding and locking the console in the upright position, attaching the handrails and bottle holders, and plugging it in. They mentioned it was the first MyRun they had ever delivered, and seemed impressed by how easy it was to set up; they said they're used to delivering NordicTracks, which are much harder to assemble. An unexpected benefit I hadn't considered is that if I ever move, it would be easy to reverse the process and pack the treadmill.
GPLama has a good video demonstrating the setup process:
Using the treadmill
Using this treadmill is extraordinarily simple—it's always in a low-power sleep mode, and wakes up as soon as you step on it. It has three buttons: the middle button starts and stops a run, or pauses it if you long-press it; the left paddle button changes the incline; and the right paddle button changes the speed. There are a couple of settings you access by pressing the middle and speed button simultaneously, to change between imperial and metric units, and between speed and pace on the display. The display itself shows time, incline, speed or pace, distance, and Bluetooth status. Additionally, the console has an emergency stop cord you clip to your clothes, a shelf at the front for a phone or tablet with a rubber grip to hold them in place, a retractable tablet stand at the top, and a USB-A port in the back to power your phone or tablet. Finally, there's a power switch at the front of the deck, next to the power cable, in case you want to turn it off completely.
That's it, that's all there is to it. Step on it, press the middle button, and start running.
Running experience
I'm not a treadmill expert, but I have no complaints here at all. It has a max speed of 20 km/h (12.4 mph), and responds to changes quickly—when doing intervals I can go from 10 km/h (6.2 mph) to 16 km/h (10 mph) in about 8 seconds, and vice versa. The incline goes up to 12%, and it doesn't decline at all—that's fine by me, I rarely change the incline anyway.
The motor has no problem keeping up with me, and I can't feel the belt slipping, sticking, or slowing down at all, even on an all-out sprint. So far it's been able to handle everything I've thrown at it without issues, including workouts with lots of fast intervals, and long endurance workouts, the longest of which has been 2.5 hours.
Comparing it to the commercial treadmills I've used at the gym nearby, I feel like it has less cushioning, but I've been able to do long endurance runs without any pain or discomfort. I haven't measured the noise, but it's definitely quieter than those other treadmills (at least my neighbors have yet to complain about it). However, I've noticed that stuff in the room tends to move around when I'm running; I might need to get a mat to put under the treadmill to dampen some of the vibrations.
The treadmill itself is solidly built. Nothing about it feels flimsy or loose, and I don't hear any squeaking, creaking, or rattling when I'm running. It's just a simple, elegant, good-looking piece of equipment. The belt feels pretty thick, and as you can see in the photo below, it's very grippy.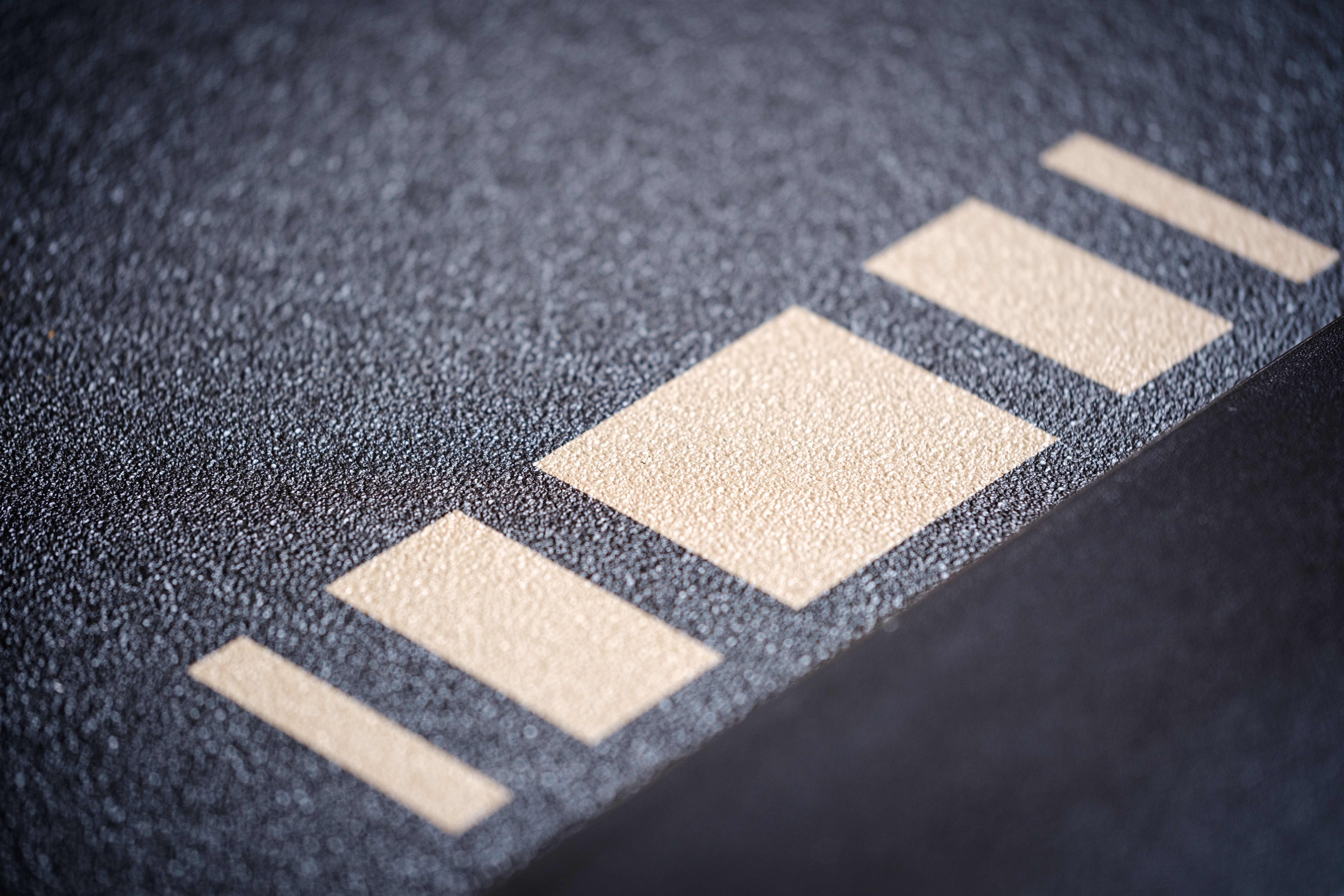 The running surface is 143×50 cm (56.3×19.7 in), which is a little smaller than other treadmills, but I'm 1.71 m tall (5′7″), so I've never felt like I didn't have enough space to run. The deck is just 15 cm (6 in) off the floor, so it's easy to step on and off.
The Technogym Live app
While the minimalism of the MyRun's console and controls might seem limiting, using it with the Technogym Live app on a tablet is when it really shines. Although I haven't used some of its features, such as the coach-guided, Peloton-like "Sessions," which require a paid subscription, the app includes a large variety of recorded outdoor runs, preset workouts, and a myriad ways to set up custom workouts on the treadmill, all of which are available for free.
You can set up completely custom workouts with varying speeds and inclines, and even better, import them from TrainingPeaks. The app is able to control the treadmill, so once you start your workout, it's essentially "set it and forget it," although you are still able to tweak the speed and incline with the hardware buttons.
Other workout options include:
Time goal
Distance goal
Calories goal
Constant heart rate, which automatically adjusts intensity to keep you at that heart rate
Weight loss, which automatically adjusts intensity for increased fat burning
Training zone, which automatically adjusts intensity to stay within a specific heart rate zone
High-low blocks, which is sort of like interval training, I suppose, with various levels of intensity, from 1-25
Hill intervals, with smoother changes in intensity, and levels from 1-25
Speed shift, which lets you preset up to four speeds and toggle between them with the speed button
Once you decide what you want to do, you simply place the tablet in its holder, start the workout, and hit the center button on the console to get moving. One quirk about the Technogym Live app is that you must put the tablet on the holder to use it; it has an optical sensor that detects if the tablet is placed there, and will not let you start a workout from the app otherwise. What I really don't like about this is that if you move the tablet, the treadmill will stop, show an obscure HF 701 error code, and end your workout. I suppose it's trying to stop you from potentially hurting yourself if you trip while messing with the tablet, but it should pause the workout, not end it altogether. What's worse, the sensor is so sensitive, it's possible to trigger this simply by tapping on the tablet. I've had a couple workouts abruptly end that way, and it's so infuriating I ended up covering the sensor with gaffer's tape.
When a run is in progress, the app shows a pretty detailed dashboard that includes time, pace, calories, cadence, stride length, and heart rate, which you can get from a paired Bluetooth heart rate monitor or an Apple Watch. You can also swipe to the right to see charts for pace, incline, and heart rate; and to the left to see a "swiftpad" with eight configurable buttons for preset speeds and inclines (four of each). The swiftpad is not available during structured workouts, though, only on open runs; I wish it was always available, and I'd also love to have a number pad of some sort to be able to dial in specific speeds or inclines.
After finishing a workout, you get a nice summary screen with metrics and graphs. I wish I had the option to continue running, though, since sometimes I have some gas left in the tank, but the treadmill simply stops once you complete a workout.
The app includes a built-in music player, and Spotify and Apple Music integration, with some custom playlists put together by Technogym. I haven't used this very much; the buttons are tiny, so I prefer to use my phone to control my music.
On an iPad, you can set up Siri for voice commands to start and stop workouts or change the speed and incline, although it works better in theory than in practice—good luck getting Siri to understand you over the sound of the treadmill while you're huffing and puffing; and just like the swiftpad, it doesn't work during structured workouts. Interestingly, these actions are available in the Shortcuts app, which is cool. For example, you could set up a shortcut that increases your speed and turns on a fan on a smart plug.
The app works perfectly in the background on an iPad. It'll show a push notification about 10 seconds before any change in speed or incline, so you can start a workout and then switch to Netflix or some other app without being caught off guard by changes in the workout. I wish it supported split view, though; you can't have the app open side-by-side with something else.
You can connect the Technogym Live app to Strava, Garmin, TrainingPeaks, RunKeeper, and MapMyFitness. Connecting to Strava lets you simulate routes on the treadmill, and sync completed runs. Connecting to TrainingPeaks lets you import your planned workout of the day, and sync completed runs. Connecting to Garmin doesn't seem to do anything as far as I can tell. (I don't use RunKeeper or MapMyFitness, so I didn't test them.)
While the pace reported by the treadmill is likely more accurate than what my watch (a Garmin Forerunner 955) estimates, I still prefer recording my runs on my watch because it calculates metrics like running power and training effect, so I ended up disconnecting Strava and Garmin from the app. However, I left the TrainingPeaks connection in place; being able to set up my workouts in TrainingPeaks ahead of time, sync them to the treadmill, and do them without me having to control the treadmill at all is so, so, so good, I don't know how I ever trained without it. I find myself nailing workouts in a way I never have on other treadmills: on workouts with lots of fast intervals, if I'm not controlling the treadmill manually, I'm less likely to "cheat" by turning down the speed before the interval is over; and in long endurance runs, being able to break them up into chunks at varying paces (a similar structure as endurance rides on TrainerRoad), helps make them far more tolerable. Technogym Live's TrainingPeaks integration makes it painlessly easy to set this up.
I've noticed a couple minor bugs with the app: the "high heart rate" alert keeps popping up even though I turned if off in the settings; and there seems to be a timezone issue importing TrainingPeaks workouts—past a certain time, importing a workout pulls the next day's workout, not the one scheduled for that day. That said, I'm impressed with the level of polish of this app, and the sheer customizability it enables on the treadmill. I'm not exaggerating when I say it has made a real difference in my training.
Zwift
While there's no integration between the Technogym Live app and Zwift, you can pair the treadmill directly to Zwift. Zwift recognizes the treadmill as both a speed and cadence sensor, and it only takes a few seconds to set things up for a run. The treadmill only supports a single Bluetooth connection, though, so you can only connect it to one app at a time.
Unfortunately, unlike the Technogym Live app, Zwift is not able to control the treadmill, so you have to do it manually, following the prompts given by Zwift. My understanding is that there is far less standardization in the industry for controlling treadmills than there is for bike trainers, so I don't think either Technogym nor Zwift are to blame here, and I believe this is also the way other treadmills with Bluetooth FTMS work. Hopefully this is something that can be added through a software update in the future, but I do wish the treadmill supported more than one Bluetooth connection, so I could at least let Technogym Live control it in the background while using Zwift. It feels silly to get a Runn sensor for a treadmill that can already connect to Zwift, but I may end up getting one just so I can use both apps at the same time. (Update: I put a Runn sensor on the treadmill after all—it works pretty well, and also confirmed that the speed reported by the treadmill is fairly accurate, within 0.2 km/h of the sensor.)
I'm not going to do a full review of Zwift running, but I'll just say it's fine. Compared to Technogym Live, it's not the game-changer I thought it would be for training, especially since it can't control the treadmill. It's fun when I need a bit of a change in (virtual) scenery, though.
Customer support
This is where things have gone sideways with Technogym. A month after taking delivery of the treadmill, I started having a serious issue with it: it randomly shuts down whenever I use the speed or incline buttons.
Here's a video demonstrating the issue:
I've done a ton of troubleshooting on this thing and reached some conclusions:
It's not a power issue. The power cord is firmly plugged in, and the treadmill is on a 15 amp circuit, which is what Technogym recommends. The breaker doesn't trip when the problem happens, and everything worked well for the first few weeks of use; a power issue would have been apparent from the moment I got the treadmill.
The treadmill works properly as long as I don't use the buttons. I've done runs of up to 2.5 hours continuously without the treadmill stopping, as long as I don't touch them.
The treadmill works properly if the Technogym Live app is controlling the speed or incline. If I set up a custom workout with varying speeds, or import one from TrainingPeaks, or use the swiftpad or Siri to change the speed or incline, everything works fine. It only stops when I change speeds or incline with the hardware buttons.
That leads me to believe it's most likely a hardware problem, perhaps some faulty connection somewhere that loosened with the impact of my running over the course of a few weeks, and now causes the treadmill to randomly crash when the buttons are pressed. It's also possible it's a software bug—the treadmill got a firmware update a few days before the problem started. Firmware updates are handled by the Technogym Live app, but it happens silently and automatically—there's no way to check for updates, and as far as I can tell, there are no release notes, or a public changelog, or a way to see which firmware version it has or when it was installed, so I can't check if the timing of that update lines up with when I started experiencing the problem.
In any case, sometimes things break, sometimes you just get a lemon. It happens, I get it. What matters to me is how companies respond—when I got my indoor bike, a StagesBike SB20, it shipped with a dead power meter, but I contacted Stages, and a couple of days later they overnighted me a new crank with detailed instructions to replace it, and gave me a workaround so I could still use the bike in the meantime. A few months later, my cat chewed on the power cable, and again, Stages immediately shipped me a new one under warranty. Stages customer support has consistently been responsive and excellent.
In contrast, I'm sorry to report that Technogym's customer support has been abysmal so far. There's no public customer support email, or a support portal where I can create a ticket; messages sent through the generic contact form on the website go unanswered, and calling the phone number results in long waits on hold (there is a contact option using Whatsapp, of all things, but I do not have Whatsapp). I even tried emailing the customer support rep that reached out when I placed the order to see if she could put me in touch with someone who could help me; she never replied. I eventually managed to reach someone on the phone, an extremely curt person who made no attempt to troubleshoot or gather details about my issue, and did no more than ask for the serial number and start a work order with "MYRUN SHUTTING DOWN" as the entire, verbatim description of the problem. When technical support finally emailed me, their only suggestion was that "the power cord may not be properly inserted," with a diagram in case I didn't know how to plug in a cable.
That's the last I've heard from Technogym. I replied with a full description of the problem and the video above, and never got a response. After two weeks, and multiple follow-up emails without a response, I'm nowhere near close to a resolution. I don't know if or when they're going to repair or replace my treadmill, so my hope is that it is a software issue, and a future update somehow fixes it.
At least the treadmill still runs, and although I am limited in what I can do without using the buttons (Zwift is out of the question, for example), I can still train as long as I set up my workouts in advance in TrainingPeaks. But come on, this is an absurdly bad level of customer support. At this point I'm inclined to return the treadmill just so I never have to deal with Technogym ever again, but I'm not sure how I would even go about initiating a return when they're so unresponsive.
Update, March 14th, 2023: After a month and a half of no response whatsoever to my emails, I ended up sending an actual written letter by certified mail to Technogym HQ in New Jersey, basically giving them 30 days to resolve my issue before I sought legal remedy, and I got a call back the same day it was delivered. The person I talked to was very apologetic for the delay, and promised to send a technician as soon as possible to determine if the treadmill could be repaired, or they'd replace it. The next day I got a call from Fitness Machine Technicians, out of Salt Lake City, to schedule a visit from the technician. We'll see how it shakes out, but this feels like progress at last.
Update, March 21st, 2023: Just got a visit from the technician. He replaced the control board and the console, and lubricated the belt in case it was a friction issue, but the malfunction still persists, unfortunately. He thinks the problem is the buttons themselves or the harness that connects them to the console, so he'd have to order those parts and come back. Technogym told me they would replace the treadmill if the technician wasn't able to fix it, so I hope that's the next—and final—step in this saga.
Update, April 17th, 2023: It's been almost a month since I had the visit from the technician and I haven't heard a word from Technogym, despite multiple requests for an update. Today, I got this:
Here's some feedback, Technogym: how about you fix my fucking treadmill before you ask about my "satisfaction." Unbelievable.
Update, April 20th, 2023: Two technicians from Fitness Machines came over today, and replaced the buttons and harness; the treadmill appears to be in working order now. They explained that it took them a while to come back because Technogym had to ship the parts from Italy. Now, why couldn't Technogym just say that at any point in the past month, perhaps as a reply to one of the many emails I sent asking for an update? I'm not upset that the treadmill started malfunctioning after only a month, I'm not even upset that it took three months to get it repaired, I'm upset by how bad Technogym's communication has been through this whole process. This is far and away the worst customer support experience I've had in my entire life, and now I'm at a crossroads with this treadmill—it seems to work, and I genuinely like it, but the last thing I want is to have to go through this ordeal if it breaks again in the future. I'm wondering if I should sell it, even if I have to take a loss on it, and get something else.
Update, April 21st, 2023: I got a nice email from someone at Technogym Italy this morning. He was very apologetic about the poor communication from Technogym USA, was glad to hear the treadmill was fixed, and said he was going to follow up with them to figure out the cause of the delays and miscommunication. I thanked him for reaching out, and thought that was the end of this journey.
I was wrong. A few hours later, I got a separate email from Technogym USA to let me know that they're working on my "MyRun extraction and refund." In the letter I sent to their HQ in New Jersey I said that repairing, replacing, or returning the treadmill were all acceptable outcomes for me, so after having the treadmill repaired, and confirming it worked, I considered the matter closed. So I don't understand why, literally a day after having the treadmill repaired, they're now working on a return and refund I didn't ask for. I thought about telling them a return wasn't necessary now that the treadmill is fixed, but I'm so fed up, I just replied "great, keep me posted." I'll start shopping for a new treadmill if and when they follow through with this return. I don't believe for a second that they will, though.
This is officially the most deranged customer support experience I've ever encountered.
Update, May 10th, 2023: They've ghosted me once again, so I don't think this return is happening.
At least the treadmill works correctly again, so this is, as far as I'm concerned, the end of this saga.
Conclusion
Pros
Compact, elegant, and easy to use
Easy to assemble and disassemble
Pretty much maintenance-free
Powerful enough motor for long, hard runs
Highly programmable; the Technogym Live app is excellent and TrainingPeaks integration is a game-changer for me
Zwift running is fun
Cons
Expensive
Zwift can't control the treadmill
Only one Bluetooth connection; can't use Zwift and Technogym Live at the same time
Developed a pretty serious issue in just a month
Technogym customer support is bad, and they should feel bad
So, is this thing worth almost $4,000? I'd really love to be able to say "hey, if you can afford it, you won't regret it," because I love the treadmill itself. It's pricy, but exactly what I wanted: an elegant, compact, low-maintenance, highly-programmable treadmill on which I can do long, hard structured workouts and connect to Zwift. However, taking into account the problems I've had with it, and in particular my experience with Technogym's customer support, I just can't recommend it. For this amount of money, you're just taking too big of a gamble with Technogym.
If, after reading this, you're still considering this treadmill, my advice would be proceed with caution. Call Technogym, and inquire about what level of support they can provide and who provides servicing in your area, and then call that company and make sure you feel confident you'll get the necessary assistance if you ever need it. Then, you can make an informed decision. This is probably a good thing to do, no matter what brand you're considering. In hindsight, it's what I should have done—it might have saved me a lot of grief.